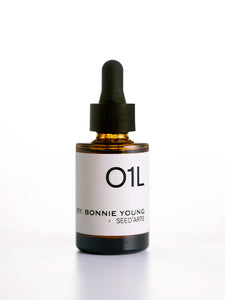 30 ml/ 1fl. oz.
O1L is a medicinal face oil crafted with highly nurturing properties. 

Our ingredients have been carefully selected and formulated to restore and reprogram at the cellular level - the combination of phenols, sesquiterpenes, and monoterpenes are clinically proven to impact the DNA - through the epidermis and olfactive nerve - to heal, repair, & regenerate. 

Use regularly for reduced inflammation, collagen production, skin cancer prevention, and energetic healing. 
N°01 BLACK SEED OIL - Nigella sativa has been used as a medicinal remedy for centuries for its anti-tumor and anti-bacterial properties 
N°02 SPIKENARD E.O. - A powerful nerve healing agent sourced from Nepal
N°03 ROSE E.O. - The highest frequency found in nature: 320 MHz
N°04 NEROLI E.O.  - Used in ancient Egypt for its anti-inflammatory purposes 
N°05 ROSA CANINA SEED OIL - High omega fatty acid for collagen production & sun damage protection 
N°06 JOJOBA SEED OIL - High B complex content for skin repair & hydration
Add a couple of drops in your hands and inhale deeply prior to applying once a day on your bare face and décolleté for a natural glow.